[cs_content][cs_section parallax="false" style="margin: 0px;padding: 45px 0px;"][cs_row inner_container="true" marginless_columns="false" style="margin: 0px auto;padding: 0px;"][cs_column fade="false" fade_animation="in" fade_animation_offset="45px" fade_duration="750″ type="1/1″ style="padding: 0px;"][cs_text]In the DWRL's most recent workshop, staff members looked at two of the most apparent–but perhaps most easily dismissed–exemplifications of visual rhetoric: emojis and GIFs (Graphics Interchange Format). Although we've all likely interacted with both emojis and GIFs before–whether you see them as a mildly amusing (or annoying) novelty or an essential part of how you communicate with others–we wanted to do more than glance at these visual vehicles of expression, and instead explore their affordances and limitations.
Splitting the workshop into halves, during the first hour, staffers worked on translating the Richard Brautigan poem "All Watched Over by Machines of Loving Grace" into emojis. Afterwards, we discussed our different approaches, with the staff, for the most part, attempting to write based on syllables, by adhering to (and perhaps forcing) a one-to-one word-to-symbol ratio, or conveying the general sense of particular lines in the poem.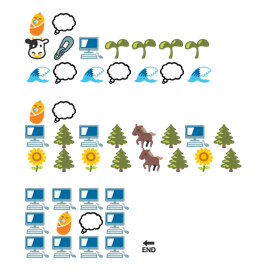 Rather than trying to identify what method was "correct," we instead considered how emojis are different than words, but not necessarily lesser than them, as the emoji poems were evocative in their own right. As such, incorporating emojis into the classroom might be a productive way for students to recognize and build upon the rhetorical savvy they already possess.
During the second portion of our workshop, we created GIFs through the website GIPHY and considered how creating GIFs that cohere with a less-than-exciting piece of text might be a productive way for individuals (students, teachers, and…DWRL staffers alike) to read, process, and then express that information. Specifically, staffers took instructions from the DWRL's Web Publishing Guidelines and created GIFs that we thought would best encapsulate and add to the guidelines, foregrounding the text as captions. Below are a few examples:[/cs_text][/cs_column][/cs_row][/cs_section][/cs_content]