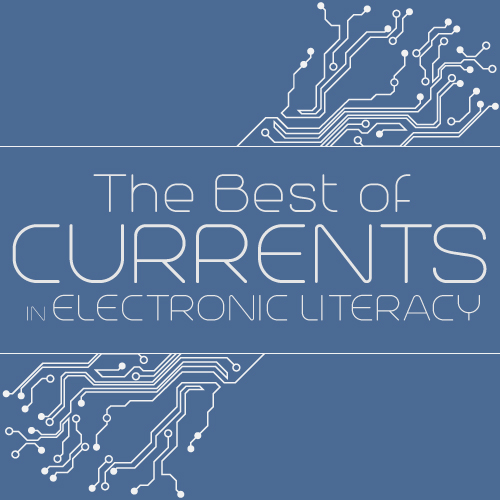 We've been saying goodbye to Currents in Electronic Literacy for a while now. In 2014, the journal published its retrospective issue. In the Spring of 2015, we made the official announcement that Currents would cease publication. In the announcement, we wrote, "After a great deal of soul searching and discussion, we have decided to retire Currents this year. It was a difficult decision—and an emotional one for us, since John Slatin, the Lab's first director, was its inventor and first editor. But as Peg Syverson reminded us, John envisioned the Lab as a site for perpetual innovation. To stay innovative, you have to be willing to let go of projects that have run their course so you'll be free to pursue what's next."
We remembered Slatin and the myriad others who contributed work to the journal:
[blockquote cite="Will Burdette and Diane Davis, 2015 " type="left" style="font-size:16px"]John Slatin—one of the accessibility pioneers for Tim Berners-Lee's organization, W3C—served as editor of Currents from its inception through 2005. Mark Longaker, Margaret Syverson, and Diane Davis all edited the journal, bringing together graduate students, internationally established names, and major figures in the field. Graduate students published alongside top notch scholars and academic celebrities, such as Lawrence Lessig, Alan Liu, Cynthia Haynes, Jan Rune Holmevik, Avital Ronell, Johndan Johnson-Eilola, Stuart A. Selber, Robert Scholes, Byron Hawk, Geoffrey Sirc, Bradford Vivian, Barbara Biesecker, Alex Reid, Joshua Gunn, Rita Raley, and Paul D. Miller, a.k.a. DJ Spooky. (For a full list of Currents contributors, please see the author index).[/blockquote]
But even after all that, we're still not ready to say goodbye. There is still so much more to listen to and read and look at in the archives. For example, Jenny Rice's "Inquiry As Telos," Lydia French's and Emily Bloom's "Auralacy: From Plato to Podcasting and Back Again," James J. Brown, Jr.'s, and Lacey Donohue's "In Between Lauding and Deriding: A Pedagogical Review of MySpace," Clay Spinuzzi's "More than One, Less than Many: A Review of Three 'Post-ANT' Books," the interview with Anna Slatin, "Digital Lyrical" by Geoffrey Sirc and Steph Ceraso, and "Reading the Rhetoric of Web Pages: Rethinking the Goals of Student Research in the Computer Classroom" by Bill Wolff. If you want to step again into Currents, check out the journal's author index.