Jazz began in New Orleans at the turn of the century and spread like wildfire in the 1920s, as men and women who perfected the genre booked gigs in Austin, Chicago, and New York. Musicians played live for youthful audiences, electrified by the new sound. As the genre traveled north, and later west, it transformed from Louis Armstrong's optimistic trumpet to Thelonious Monk's volatile piano solos. How may instructors demonstrate these changes in America's cultural landscape, capturing both the physical movement of the musicians and the qualitative changes in the craft? Audio maps offer instructors a unique method to situate students geographically, temporally, and aurally. By examining these maps, students may listen to the evolution of jazz, for instance, as musicians and vocalists tinkered with the genre in various pockets of the country.
But audio maps can be used for more than just music. For instance, Cities and Memory invites us to record street sounds. An invaluable and innovative archive, these recordings may capture the transformation of a street from a quiet residential block to a trendy district filled with entertainment, or vice versa. It might also, on a more visceral level, fill us with nostalgia as we listen to distant sounds of home or a city we once visited. Linguists have also successfully used audio maps to chart accents and dialects. More commercially, museums and tour agencies offer audio maps in order to provide viewers a deeper flavor of local cultures, digitally experiencing (and perhaps eventually visiting) the sounds.
For instructors, there are several options available for free sound mapping. The first is Map Maker. After clicking on a location with your mouse, you insert a title in "name" and provide a short descriptive text along with a URL for the audio content in "Popup content." Though you cannot include sound files, like MP3s, Map Maker does allow embedded Flash files, like Sound Cloud (click here for directions on how to do that). After clicking "Add marker," the pinpoint appears in the location you clicked and, on the right hand, a sidebar appears entitled "Markers," containing your titles.
Users can add markers to the map using latitude and longitude coordinates, then add details about the marker. Screenshot by the author.
The finished map will have markers for points of interest, and the ability to add detailed information about each point. Screenshot by the author.
The second prominent sound mapping site is UMapper. Unlike Map Maker, you can upload audio files, like MP3s, into an Audio Library. Once the audio is uploaded, you drag the file to the location on the map you wish to mark. Though you may fill in a description for the marker, the popup will not provide it; students will only see the title and audio file. This site, however, also allows you to select from a variety of map types, like OpenStreetMap.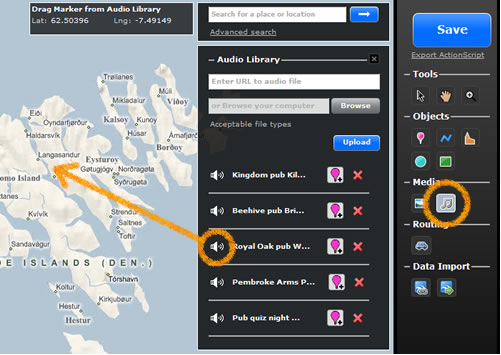 In UMapper, you click and drag audio files from the library (at right) onto map locations. Screenshot from http://www.soundsurvey.org.
uk/index.php/survey/blog_comments/1326/.
Finally, there is Google Map Maker (not to be confused with Map Maker!). Gmail users need not create accounts and registers, as required of UMapper and Map Maker. In Google Maps, you may easily situate yourself by typing in a location or zip code in the search box, extraordinarily helpful when mapping large areas. Another benefit of Google Map Maker is the ability to draw lines between markers by clicking on the triangle icon, thereby guiding students from one location to the next. By using the hand icon, you may drag the map in order to reach the area you wish to mark. After clicking on the pinpoint icon, you may place the marker. A popup then appears where you may enter a title, provide a description, and add a URL for your marker. Unlike Map Maker, you cannot embed Flash files; however, if you download the Google Map SDK Component, you may. Find directions on how to do so here.

A screenshot of the author's sample Google map.
I have created my own Google map to offer an example of how sound maps provide students with an aural cultural landscape. A valuable tool, audio maps engage students visually, by situating them within a geographic space, and also aurally, by offering them content to evaluate and judge (rather than textual information to commit to memory).